Many things are changing as a result of the coronavirus: so much positivity for humanity, not to mention the impact on our environment.
News channels and social networks report almost daily about the benefits of the lockdown for our world – azure blue water in the canals of Venice; unobstructed views of the Himalayan mountains that haven't been seen for decades; and the elimination of smog over large cities, just to name a few.
We've learned that, in many cases, onsite appointments and business trips are no longer necessary thanks to online meetings and virtual conferences. Even phrases like mindfulness, home office, and work-life balance have taken on deeper meanings.
As companies inevitably rethink their values and philosophies, they will look for suitable adaptations for their onsite office structures. For us as interior designers, this means our concepts need to provide imaginative solutions. But what exactly does that mean? Until the beginning of this year, open office concepts with shared desk areas were preferred to promote employee communication and increase efficiency. This approach of condensing spatial footprints will certainly be transformed into the opposite scenario. Our JOI-Design team anticipates the following changes:
1. New divisions of space
Multiuser workstations initially designed for four-to-six people must now be converted into areas with increased spaciousness. The goal: 1.50-metre spacing in all directions with a standard-depth desk. This set-up results in a loss of 30-40% of workspace.
But don't worry. This doesn't mean companies need to rent more space. Now that home offices have become established and proven in many areas, they can certainly be a welcome proposition for many companies and employees while simultaneously cancelling out the need for space.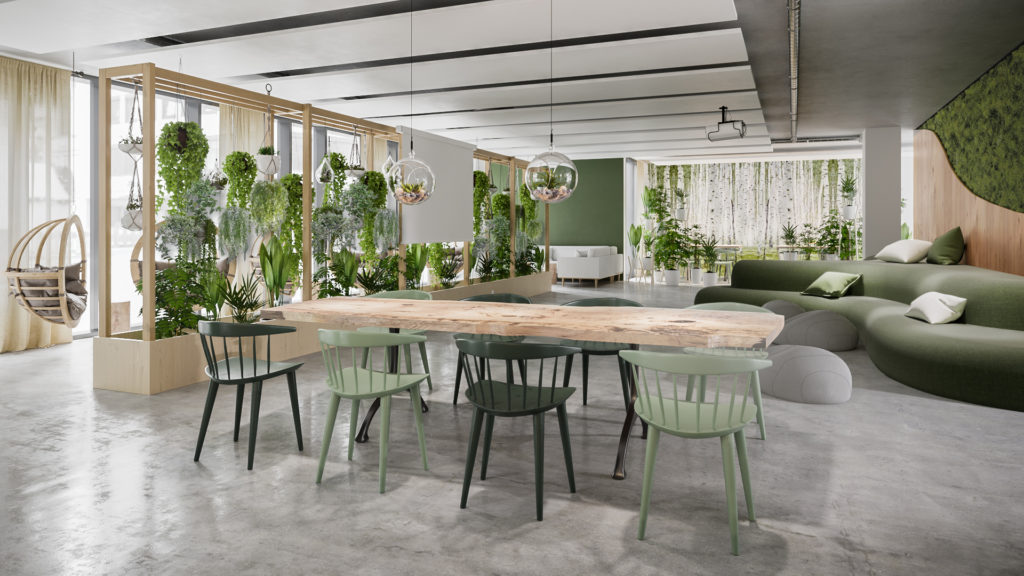 Office design is going to change fundamentally. It's no longer just about collaboration and sharing. Our experience of living life at a distance must now be transferred to the office world and reflected in its design and structure. We not only need to apply new hygiene standards and regulations, but also what we've learned.
Recent 'New Work' concepts already promote the possibility of creating private retreats such as 'think tanks', double focus, repurposed telephone boxes. Such places will be increasingly needed so that people physically sense 'distancing' and feel there are spaces just for them. Rather than being placed in central zones, these nooks will be adjacent to the building's façade to ensure ventilation.
Perhaps a new structure will emerge from the 'shift work' many companies, including JOI-Design, have introduced for nine-to-five jobs. Our team is divided into three groups who, from now on, only come to the office on different days. This strategy allows us to guarantee a 1.50-metre distance in all directions, even during lunch breaks.
2. Introduction of walking paths
Dedicated walking paths in corridors and multifunction areas, as currently seen in retail spaces, will move into everyday office life. Visual elements such as differently coloured walls, carpets, or other floor coverings will make us subliminally aware of distance regulations and further differentiate areas.
3. Adjustable furniture and equipment
Movable, multifunctional furniture and technical systems can increase the distance between seats as well as working areas. This is also advantageous because it allows offices to adapt to special requirements, conditions, and occasions. In the future, designers of office interiors will need to pay even more attention to choosing furniture that is easy to clean and radiates a natural feel. In addition, acoustic privacy screens between workspaces will grow in height to better shield from sneezes and coughs.
In washrooms and public areas, demand will grow for contactless systems using sensor technology. This not only applies to water taps and soap dispensers, but also for operating features such as doors, lifts, and singling systems.
4. Conference areas as platforms for face-to-face communication
Meeting and conference areas will continue to be in high demand. They are essential spaces that strengthen employees' personal relationships and trust while also allowing customers and clients a certain degree of intimacy for confidential discussions. Meeting rooms will become a vehicle for face-to-face communication to counterbalance virtual meeting and collaboration platforms.
Therefore, we doubt these spaces will experience a surge in high-tech investment. Instead, these rooms' design must be more residential and comfortable to inspire a sense of trust and understanding. Ideally, no-touch voice controls will be intelligently and invisibly integrated.
5. Development of new design elements
As designers, we should be prepared to develop designs that meet new health and safety measures. Sneeze-guards, for example, are fully established in the retail trade. Why shouldn't you also give your office's reception staff greater protection?
6. Coworking spaces continue
We believe coworking spaces will remain popular – perhaps even more so than before – with those looking for flexible, alternative office space. Interest will continue to grow from large and small companies, along with the self-employed, and of course new cleanliness standards and regulations will apply.
A thrice-daily turnover of workers at a shared desk is no longer feasible for hygienic reasons. However, a remedy could be disposable paper desk pads that team members access from a special dispenser so that they touch as few surfaces as possible.
7. Redesign of food courts, canteens, cafés, and snack points
Not only will our actual office routine change as a consequence of COVID-19, so will our behaviour during breaks. We need to rethink these areas and use design to support health and safety measures. Once again, stylish room dividers can not only provide visual boundaries, they can be barriers from coughs and sneezes. In addition, designated circulation paths must be incorporated into layouts.
New ways of interacting with each other will allow 'distancing' to become fully integrated into our daily work and office lives. A slow return to the workplace is an important component in restoring the profitability of companies.
Nevertheless, at JOI-Design we believe human contact is what makes us who we are and our profession special. We design as people for people, creating living spaces that constantly react and adapt to society's changes, wishes, and demands.
Our team recognises the effects of COVID-19 for us as interior designers. We're rethinking our projects, but we're not blindly implementing hygiene standards. By embracing these challenges with diverse and creative ideas for reimagined rooms and new concepts, we are paving a path forward for a better industry and world.