Capri by Fraser Berlin – Products curated by JOI-Design
About the project: The second Capri by Fraser for Germany, both from our pen, and here once again the spirit of the brand, which comes from Singapore, should jump as a spark – lightness and humorous charm also arrive in the capital.
a comfortably upholstered sofa that looks like a swing – as the seat part appears to be hooked into the frame. This starts the game of deliberately scattered furniture as individual pieces.
also an Italian manufacturer, and yet a completely different design language: This sofa impresses with its massively fluffy appearance. Like a huge pillow and with an 'all over' quilt fabric, it invites you to sink in and relax.
Formally, a lot in this project revolves around the hexagon, it appears moving & open in many directions and also structured at the same time. This art object from the Netherlands gives the motif a quiet tone on tone stage.
voluminous meets filigree: the fine side tables create an exciting contrast to the sofa.
now it's gonna be playful! The design doesn't take itself too seriously everywhere – so the visitor can swing a lap on it, in the best case put it straight on the internet, and so the hotel receives traffic straight away (you had hotel brochures yesterday, today you follow Instagram accounts).
You can swing here too: The modern version of Grandma's rocking chair on the veranda. The color brings a special kick.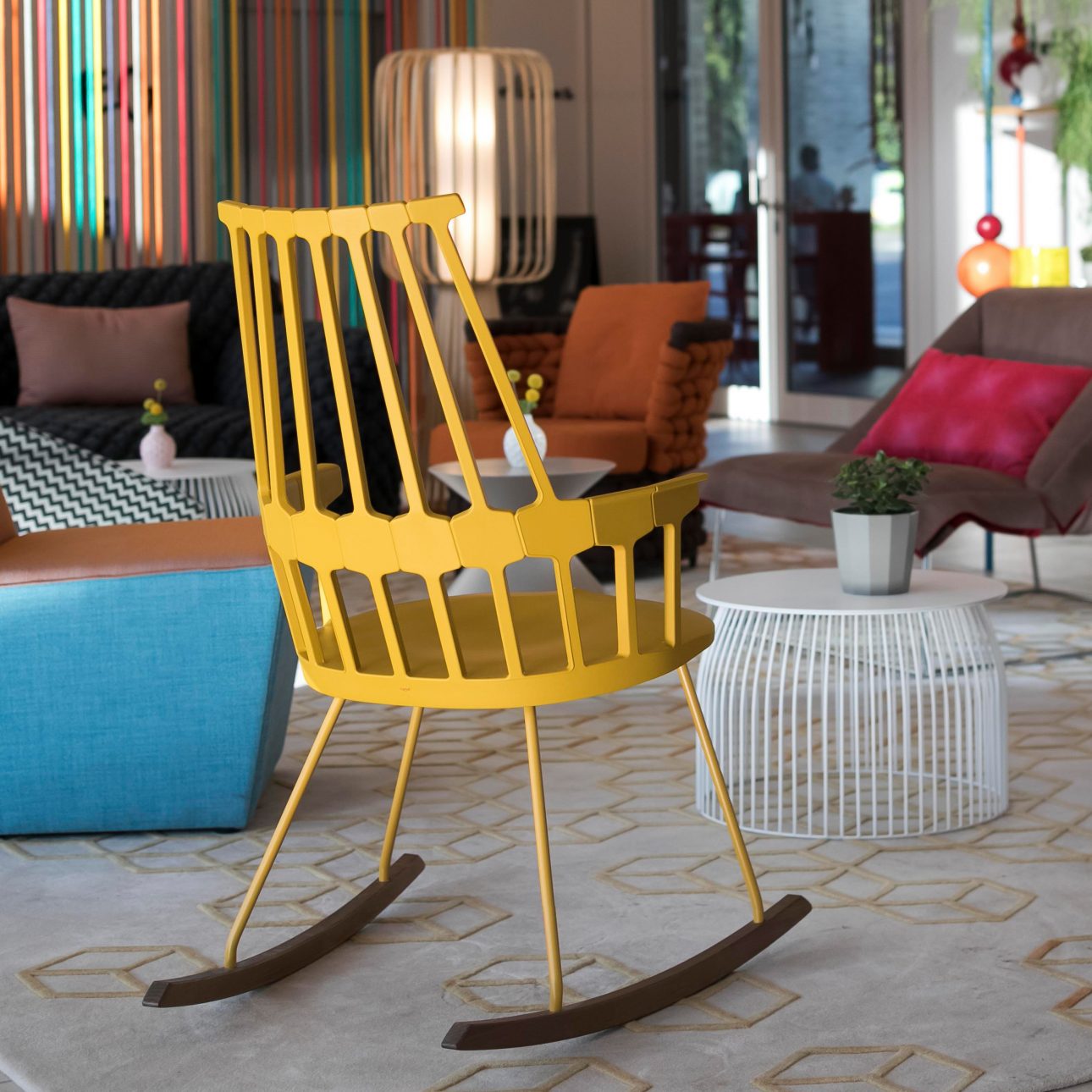 a table like a chess piece. Makes a pointed statement and fits perfectly with the casual look Pouf 'Beanie' by Montis (NL), which is reminiscent of a carefully rolled up ball of colored wool and fits easily into the loose furniture of the bar.
Coffee Table: Link to Website
Pouf: Link to Website