Hilton Munich Airport, Executive Lounge – Products curated by JOI-Design
About the project: Relaxation, a little refreshment, exchange – all that travelers look for during breaks at Munich Airport. We responded with the interior design by placing local, traditional materials in a new, modern context and by using very puristic approaches to the design to counteract the hectic airport rush.
the repetition of the uniform 'off the peg' lights creates a pleasant rhythm that has a calming effect on the lounge users.
the kitchen block is accentuated by a directed bundle of pendant lights as a swarm. The luminaire package marks a turning point and emphasizes the location as an island in the room.
'Dares' Armchair by Place (D)
in addition to all the purist, restrained repetition, a lounge naturally also needs comfortable upholstered furniture. We chose this model because, in addition to seating comfort, a certain rigor in appearance is conveyed again (and the armchair is also thought of as smart: armrests made of leather are more durable and more hygienic!).
almost a classic too! Even if not that old, this wall-hung mirror with its characteristic leather buckles is already cult. Here as a reminiscence of traditional costumes or cowbells, but above all so that you don't lose track of the room from all seats.
there is no trend without a counter-trend: These pendant lights also appear in swarms, but – relatively untypical for this project – at very different heights, because they bring a little poetry with them.
a wall covering with a patch work effect. We love them, the discoveries at second glance: This wallpaper has many facets – it forms a valuable bracket for the room and also arouses the spirit of discovery.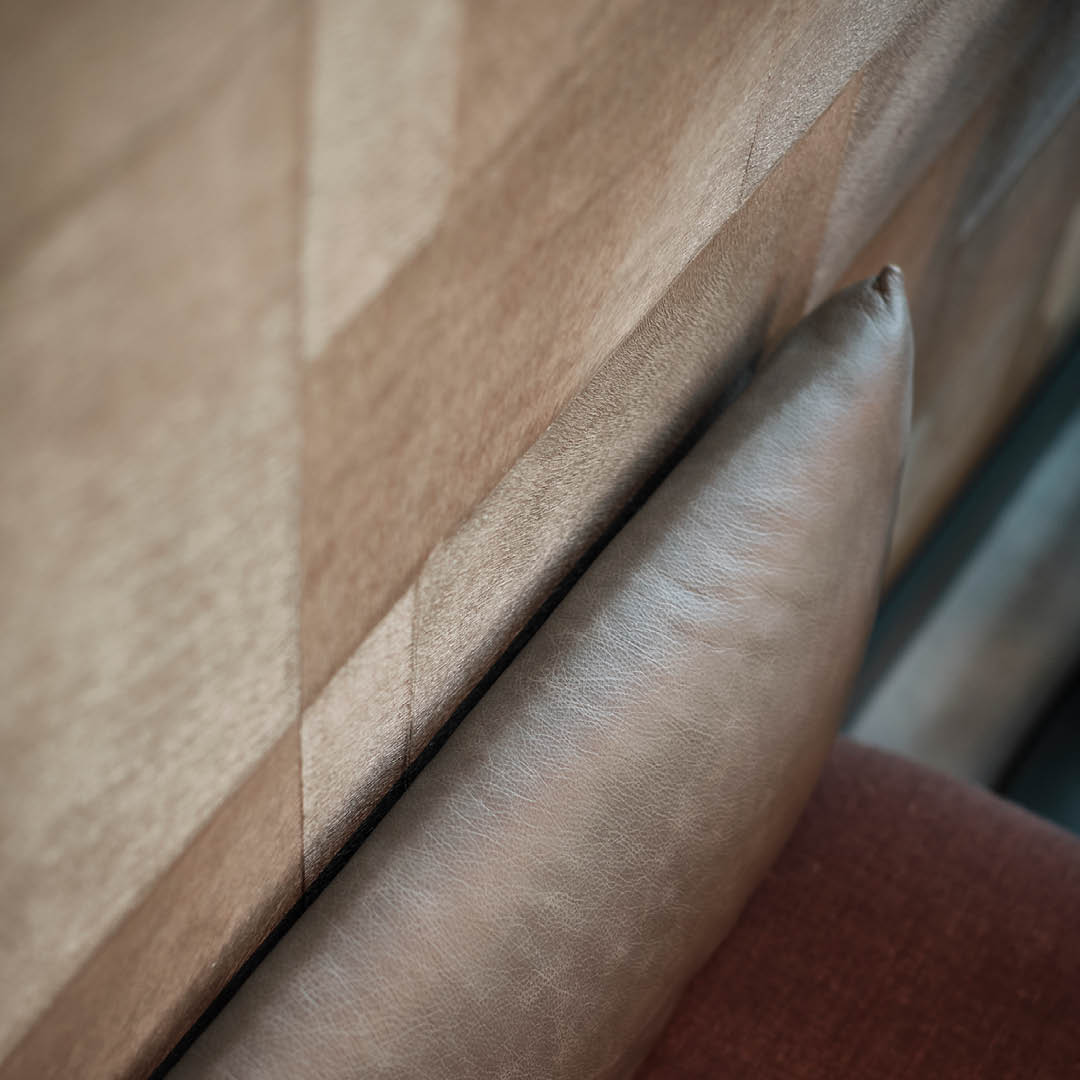 here, too, you have to take a closer look: the leather comes into its own thanks to the visible proximity.