Hotel Four Seasons Iserlohn
Susanne Schlüter - Hotel Forth Season
What was the general premise of the project?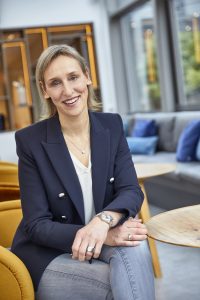 A few years ago, we were faced with the question of how to proceed with the Hotel Vier Jahreszeiten am Seilersee - the house had worked wonderfully for over 15 years but was also getting a bit old. In addition, we needed more space, especially more hotel rooms. And so, we put the cart before the horse, first expanding the parking areas and building Wilde Ente restaurant. This was followed by the expansion of the main building to include the Fetter Förster restaurant and a new production kitchen. Renovation work in the former office floor was next - this is where the boardrooms were created. The old bar is now a new, open-plan office for our hard-working hands in the background and the winter garden, which used to house the restaurant, is where our new hotel bar "Blaue Eule" was created. Afterwards, public areas such as the reception and lobby were adapted to the new style, and now we are concentrating on Haus am Wald, the last step (for the time being). Here, 77 new hotel rooms and suites are currently being built, and their completion will mark the grand finale of the ongoing modernisation taking place since 2015.
What did you particularly like about JOI-Design's concept?
There were several reasons for choosing JOI-Design. On the one hand, there is of course their outstanding experience with the development and implementation of hotel projects. You can sense that JOI-Design knows their craft and sometimes comes up with ideas we wouldn't even think of. Then, of course, is their flair for creating beautiful things and an ideal design – one that is just right for our house. We simple speak the same language, at least most of the time. And if not, then we will find a very good solution together. We are certainly a house that does a lot of its own planning, bringing in many of our own ideas and implementing them. For example, it is important for us that our project includes many regional products and manufacturers. This is and was certainly not always easy or unusual for JOI-Design. Together we developed, planned and built a great product - and the result counts and is exactly as we imagined it. If we were to build or change things again, JOI-Design would certainly be on board again, too.