me and all hotel kiel
For the recently launched boutique lifestyle brand, me and all hotels, interior architect JOI-Design developed a concept of 'urban natural chic' blending nautical influences from its setting along the inner fjord of Kiel, Germany, with industrial elements from the docks and nearby train station.
Careful to avoid kitsch, the studio selected casual maritime accents that cleverly reference me and all Kiel's proximity to the water and the port, while steel and concrete elements allude to the rough character of a shipyard. Natural materials and references to nature go hand-in-hand to create a relaxed, down-to-earth atmosphere.
Authentic natural materials such as real timber floors and wall cladding made from recycled wood accompany concrete finishes, joining forces to create a strong character. Rough-hewn accents inspired by the nearby shipyards are softened by numerous plants, flattering light fixtures and smooth, high-quality leather upholstery.
Andreas Krökel – Board of Directors Operations, Sales & Marketing /Chief Operating Officer Lindner Hotels & Resorts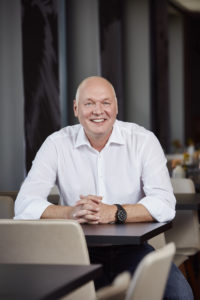 What was the general premise of the project?
For years, we've conducted trend tours to gather new ideas and track down trends in hotel architecture. For example, we visited numerous boutique hotels in New York a few years ago and were very enthusiastic about the "urban garden concept" newly emerging in some hotels, especially as implemented in the 1Hotel Brooklyn Bridge. We introduced this core principle when briefing JOI-Design about the project.
What did you find particularly good about JOI-Design's concept?
In addition to friendly and straightforward cooperation, JOI-Design understood perfectly how to adapt our primary architectural idea for Kiel's location and link it with the "local hero" concept of me and all hotels – a basic building block of the me and all brand's DNA – through interior design. We are very happy with the result.
Arwards:
THE PLAN Award 2021 shortlisted
Tophotel Newcomer Award 2021

Award for Design EXcellence (ADEX) Platinum 2021
Berlin Design Award 2021 by DRIVENxDESIGN