Premier Inn – Frankfurt am Main
It's fresh, original, and comes with an extra helping of playful Britishness. The Premier Inn celebrates the opening of its first German hotel, in the new Europaviertel district of central Frankfurt, with a highly creative interior design concept. This provides a surprisingly modern and humorous take on typical British style, with a comfortable, open-plan environment and a strong focus on detail. Dark warm colours are brought to life by bright accents of turquoise, sunshine yellow and violet for an even more inviting feel, and an eclectic selection of distinctive clustered pendant lights illuminates the different areas.
Lennart Schlüchtermann – Hotel Manager, Premier Inn Frankfurt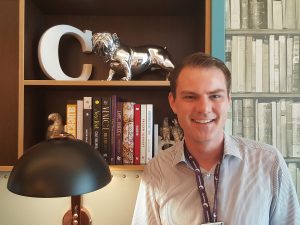 What was the general premise of the project?
As we were launching a hotel brand that was completely new to Germany, it was important we created a high-quality product at an excellent price for business and leisure travellers. Both target markets needed to feel equally comfortable, with the potential to work in a functional yet playful atmosphere as well as relax, eat and drink in our lounge.
What did you like the most about JOI-Design's concept?
The particularly original hotel interiors attract many visitors. Stylish barstools, modern designer lamps and colourful artwork create a space where people readily socialise, while classic Chesterfield sofas invite them to relax.
I really like the hotel's playful colour concept: natural wood tones go hand-in-hand with vibrant turquoise, yellow, pink and purple accents. Furthermore, I like how each area has been defined to help meet the needs of different guests. A range of designer lamps in assorted colours and shapes highlight features that vary from zone to zone. For example, illumination from pendants in the work space helps guests concentrate, while in the lounge's dining space, wire cage lamps emit a warm glow.