Desire Meets Lifestyle
Hosted by AHGZ and JOI-Design and powered by Internorga, round six of the Speakeasy Salon series one again took place in Hamburg, this time with the topic "new hotel ideas under the magnifying glass."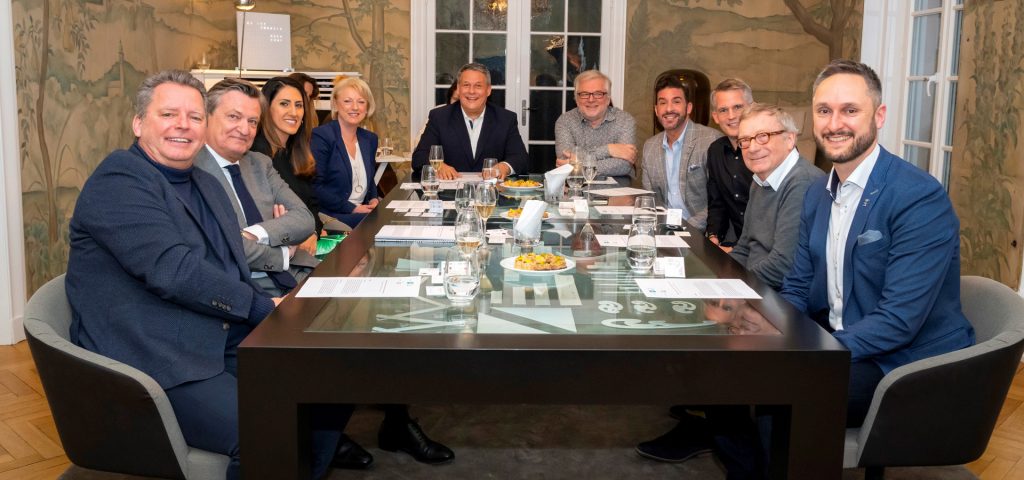 Photo: Antonia Jenner
Joining this salon's conversation, from left: Johann Kerkhofs, Kai Hollmann, Homeira Amiri, Claudia Johannsen, Rolf Westermann, Peter Joehnk, Jens Sroka, Fabian Engels, Prof. Peter Wippermann and Steffen Waldmann
HAMBURG. Fliegerdeich, Krønasår, PierDrei and Urban Loft: these are the names forging the newest frontiers in Germany's hotel market with their innovative ideas. And while Ninetynine Hotels and Arborea Resorts have already claimed their stake as pioneers, they, too, wish to further develop their brands. But will they be game-changers for the industry? This was the primary question debated during our sixth Hamburg salon powered by Internorga. AHGZ editor-in-chief Rolf Westermann and interior designer Peter Joehnk of JOI-Design invited Homeira Amiri from Ninetynine by Centro Hotels; Fabian Engels from Urban Loft by Althoff Hotels; Kai Hollmann from Pier Three; Johann Kerkhofs from Arborea Resorts; Jens Sroka from Heimathafen Hotels; and Steffen Waldmann from Europa-Park Rust. Hamburg's well-known trend researcher Prof. Peter Wippermann also contributed thought-provoking ideas.
In addition to exploring the latest ideas shaping the hotel industry, the panel also considered the influences that are sparking these changes. For example, what do hotel guests wish for? Would they rather let off steam in a digital playground or relax in a natural oasis? Is it better to be immersed in an artificial world or get to know a location's personality? And last, but not least: which models make the most sense for the hotel brands sitting around the table, and what role does design play?
An Inclusive Message
"Beautiful design is no longer enough," said Homeira Amiri, whose Centro brand Ninetynine focuses on nature and giving people an "oasis in the city". "Guests demand lifestyle concepts that create comfort and well-being, ones where personal recognition brings added value for guests."
Trend researcher Peter Wippermann said the Ninetynine concept offers guests leisure and ​​mental relaxation in a classic design setting. "They're also promoting mindfulness in line with the current fitness scene," he continued. "While that approach will be good for certain guests, it won't be accessible for others."
Responsible Urban Development
Jens Sroka's brands Beach Motel and Bretterbude of Heimathafen Hotels are built around the ideas of "casual coastal holidays" and "feeling young". While their parent group will continue identifying with these values, new projects will also explore other concepts. In April, Sroka launches Heimathafen's first boutique hotel, Fliegerdeich, followed by the opening of the Lighthouse Hotel & Spa in Büsum slated for August. The Friesland in Wilhelmshaven is set to open in September 2020. "At this location, the 'cool surfer attitude' doesn't really fit", said Sroka. "We're updating our concepts to make them a bit more chic and grown-up." He also pointed out the group's role in the urban planning of these coastal towns, saying "The Beachmotel's original premise no longer works for Büsum."
Wippermann conveyed his respect for the developments, saying, "Huge opportunities have been missed along the German coast simply because the room supply is below norm. Jens Sroka is trying to significantly raise this standard by making German coastal cities attractive for resorts again." He sees that Sroka's properties promote a sense of youthfulness through Americana nostalgia for surfer culture.
Style designed for target markets
Still under development is the new design brand Urban Loft, which will debut in Cologne in 2020 as part of the Althoff Hotels group. As Fabian Engels reports, the concept will be geared towards style and target markets, with the essence of the city brought into the hotel. "We see the lobby as a 'neighbourhood loft' attracting and connecting local entrepreneurs and creatives, pop-up stores, co-working groups and coffee lovers to form a dynamic, collaborative experience," said Engels. The hotel also plans to curate installations and street art. He said manageable guestroom sizes ranging from 16 to 19 square metres will help avoid vacancies, with much of the hotel's activity generated by the lobby areas.
18 to 45 square metres, however, is the guestroom size required by PierDrei in Hamburg, for which Kai Hollmann is a private shareholder under Fortune Hotels. The 212-bedroom property, which actually should have opened long ago, will be entirely dedicated to families and entertainment including a children's campsite on the roof of the restaurant and the hotel's own cinema and theatre. "Our primary focus is on quality and usability for families," said Hollmann, "so many of our guestrooms have three or four beds." Expected to open in August, the hotel aims to be "one-of-a-kind".
Family-oriented trends
For trend researcher Peter Wippermann, the PierDrei is also an exciting concept because it supports the Hanseatic value of families spending time together. The three miniature wonderlands created by Kai Hollmann and Sebastian Drechsler, Frederik and Gerrit Braun, and Norbert Aust of Schmidt Tivoli have their own distinct personalities, with Wippermann saying, "each brings something that the others could not."
Families have become sanctuaries today, according to Wippermann. "In today's society, 42% of Germans live alone in individual households – and this figure is growing rapidly." Typically, hotels experience trepidation when hosting families due to noise levels and the potential to disturb other guests. "However, if you can rent rooms with three to four beds, as in PierDrei, then that's a trend that you have to look at closely," he said.
Sell ​​experiences
A standard guestroom with four beds will also be available in the new Hotel Krønasår in Europa-Park Rust opening in May. Storytelling is an important part of the concept in this 276-guestroom museum hotel. Part of the Rulantica Water World adventure theme park, the story is spun around a mythical Nordic island, from the (not quite real) sea snake skeleton in the lobby to children's "travel suitcases" and the Nordic cuisine. "Our aim is to capture the visitor's attention by selling an experience," said Steffen Waldmann. "This is consistent across all channels, whether books, films or specially composed music which can even be layered with atmospheric sounds to create an impression of creaking floorboards or passing airplanes."
Interior designer Peter Joehnk knows about the effort involved in such projects. "We, too, have designed theme hotels," he said. "It's easy to underestimate how much work is required to create a perfect, believable atmosphere – and of course it's for a unique project that can't be replicated."
Las Vegas has demonstrated that selling illusions can work, according to trend researcher Wippermann. His conclusion about Hotel Krønasår: "Suddenly Scandinavia is in the landscape with a really perfect idea for acoustically drawing guests into a world that others experience either on drugs or using virtual reality. The concept has great potential."
Create social closeness
According to Wippermann, Arborea Resorts brand is a bit of a fad, at least when it comes to names and logos. The name represents the "tree", while the logo depicts a forest spirit. The concept itself is almost "social pedagogical", he said. Sustainability, communication and "experience together" are the hotel's underlying concepts said Arborea boss Johann Kerkhofs. Four communication platforms have been created in the property, including an "amphitheatre" of sorts for cinema performances and live entertainment, an interactive kitchen and a small workshop. "We want to create niches where people come together," said Kerkhofs, as he finds they often only need a small push to connect with others.
The Arborea kitchen is local and seasonal. "80% of our food comes from the region," said Kerkhofs, "including Holsteiner buffalo which live in our meadows." This also piqued the interest of Internorga boss Claudia Johannsen. "It's exciting that the concepts we identified in our recent study with trend researcher Karin Tischer, for example 'back to nature', 'green food' and 'sustainability', are being combined in different ways in the hotel industry," she said. "It's something I hadn't noticed before."
Serve cravings
For AHGZ editor-in-chief Rolf Westermann, storytelling and communication are the common thread, a view shared by Wippermann. "The participants in this salon presented concepts that tell stories," he said. Although for Arborea, he wasn't so sure. "They are more likely to have a socio-pedagogical concept that consistently enforces social closeness as a basic idea/ For me, that goes beyond the idea of storytelling.
The fact that people are drawn to experiences with stories and illusions shows the psychological relief these functions provide. "They combine our experiences with what we know from films and virtual worlds," said Wippermann. For the future, this means, "we either build ourselves worlds we can retreat to, or we truly pursue our desire to be immersed in nature in some way, whether that is with buffalos in the meadows at Arborea, or the vertical gardens at Ninetynine." He concludes that in Germany, the three most important principles for individuals are nature, health and family. "All three values ​​are areas of yearning reflected in the salon participants' new hotel concepts."